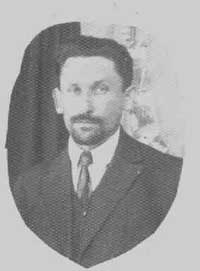 YAKOV-HIRSH ELISHKEVITCH
1892 - 1942
Yakov-Hirsh, my grandmother's brother, was an intellectual who studied in Vilna, a member of the board of the Jewish community in Vishnive, and helped erect the Hebrew school where he was a director and a teacher after WW I. Yakov-Hirsh took in my grandmother Chaya and helped raise her with his own family after the death of their father Avram from typhoid during WW I. Yakov-Hirsh was a Zionist, and pushed his sister Chaya to leave Vishnive and become a pioneer in Israel (Gitke, another sister of theirs, was with her husband in preparation to go live on a kibbutz in Israel, but WW II came and they never get out).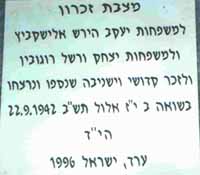 Yakov-Hirsh and his son Avram-Binyamin were murdered in the first massacre (the first 39 Jews who had been shot by the Germans next to the Jewish cemetery in a hole they dug) of the town during WW II. His wife Tayble, and their second son Chaim, were murdered in the massacre of the Jewish ghetto in Vishnive on September 22, 1942.
My grandmother never forgot him and his family.